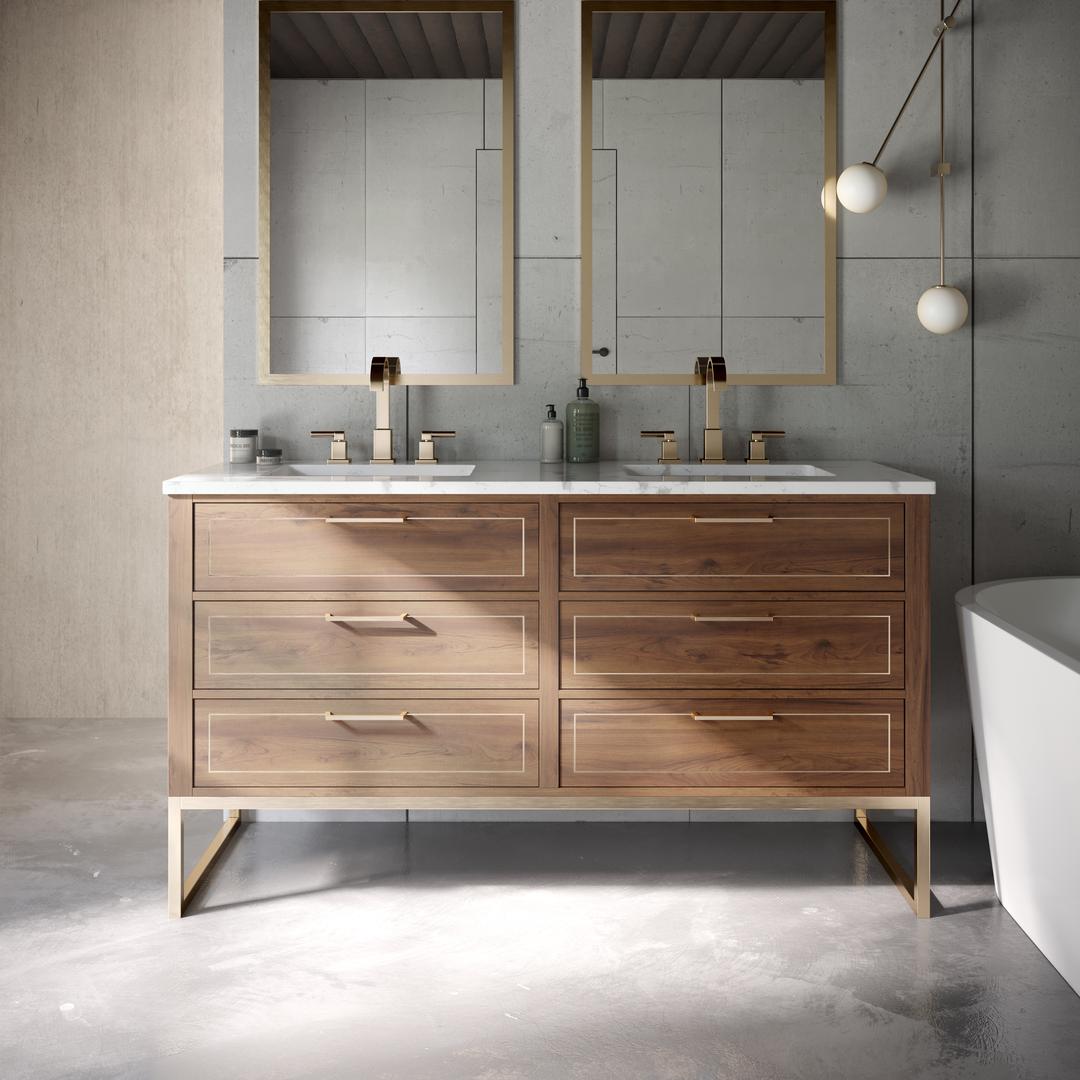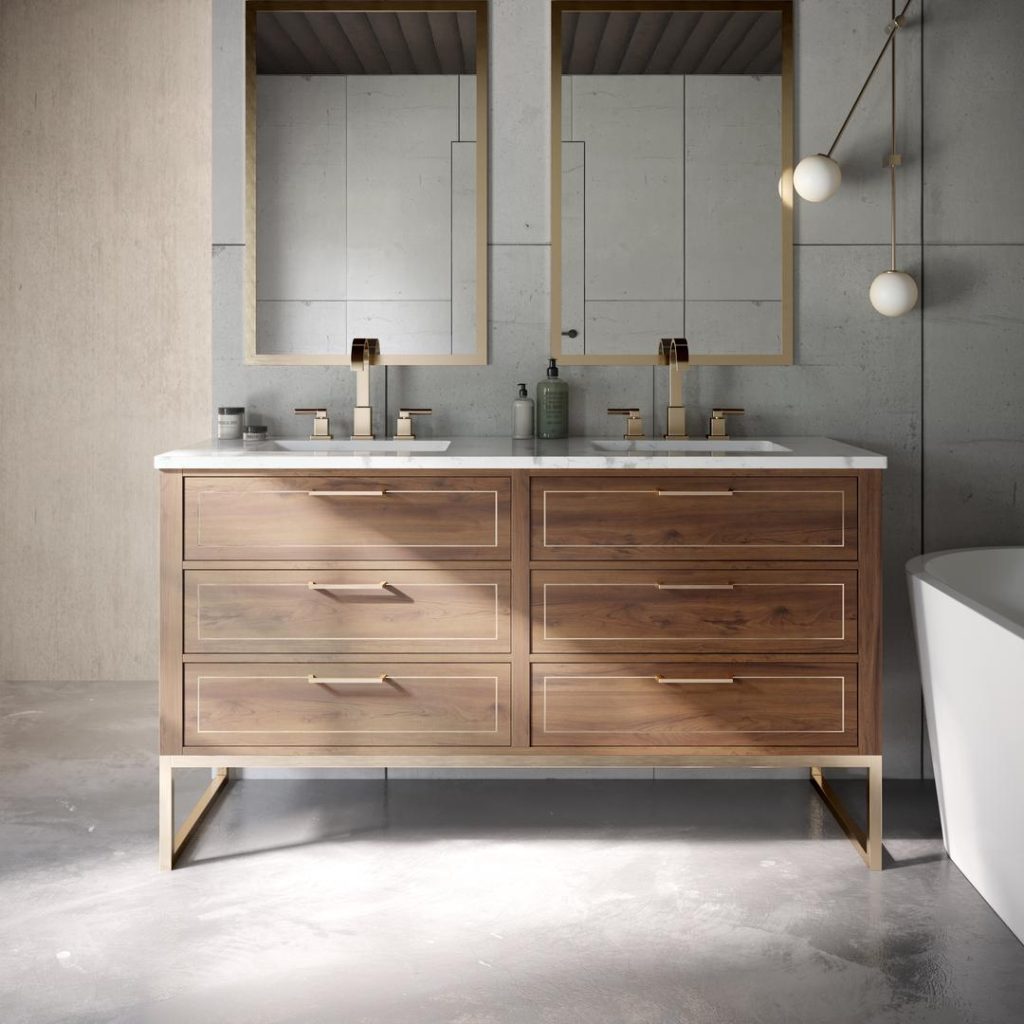 In the realm of bathroom design a mid century modern bathroom vanity has gained significant traction. The bathroom serves as a sanctuary for relaxation and rejuvenation. Among the popular design styles, is mid century, thanks to its fusion of sophistication and simplicity. BEMMA, a distinguished figure in bathroom fixtures, presents the Mid-Century Bathroom Vanity. As well, this guide delves into the core of mid-century modern design, the features of BEMMA's offering, and how it can revolutionize your bathroom into a timeless haven.
Understanding Mid Century Modern Design
Mid-century modern design, which emerged in the mid-20th century and still captivates design enthusiasts today, is characterized by clean lines, organic shapes, and a keen focus on functionality. Furthermore, this design style aims to blur the boundaries between indoor and outdoor spaces, often incorporating elements like wood, exposed legs, and straightforward, yet elegant, forms.
BEMMA's Mid Century Modern Bathroom Vanity
BEMMA's Mid-Century Bathroom Vanity epitomizes the core tenets of this design style. With its clean lines, warm wood finishes, and practical features, it effortlessly harmonizes with modern and classic bathroom settings, making it a versatile choice across various interior aesthetics.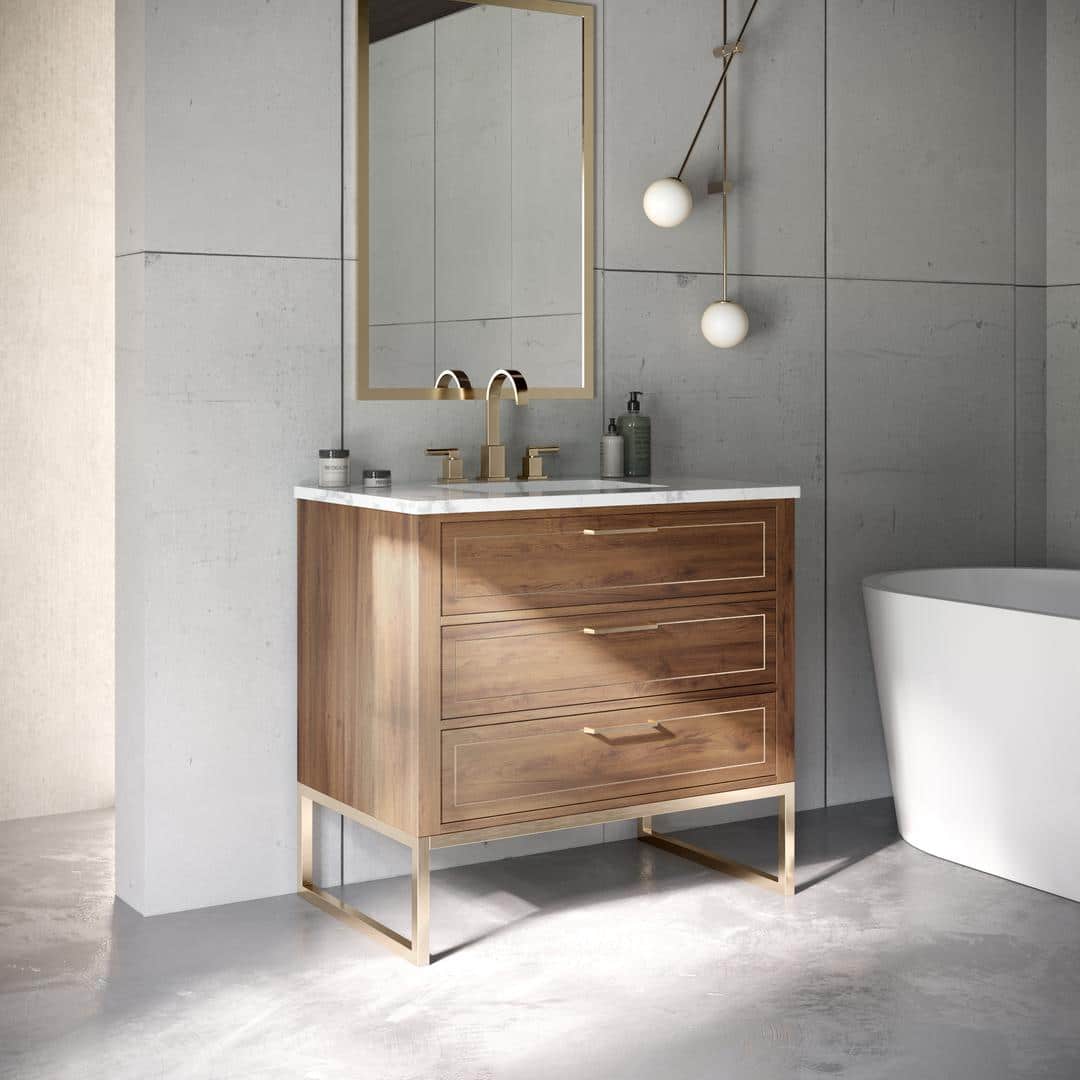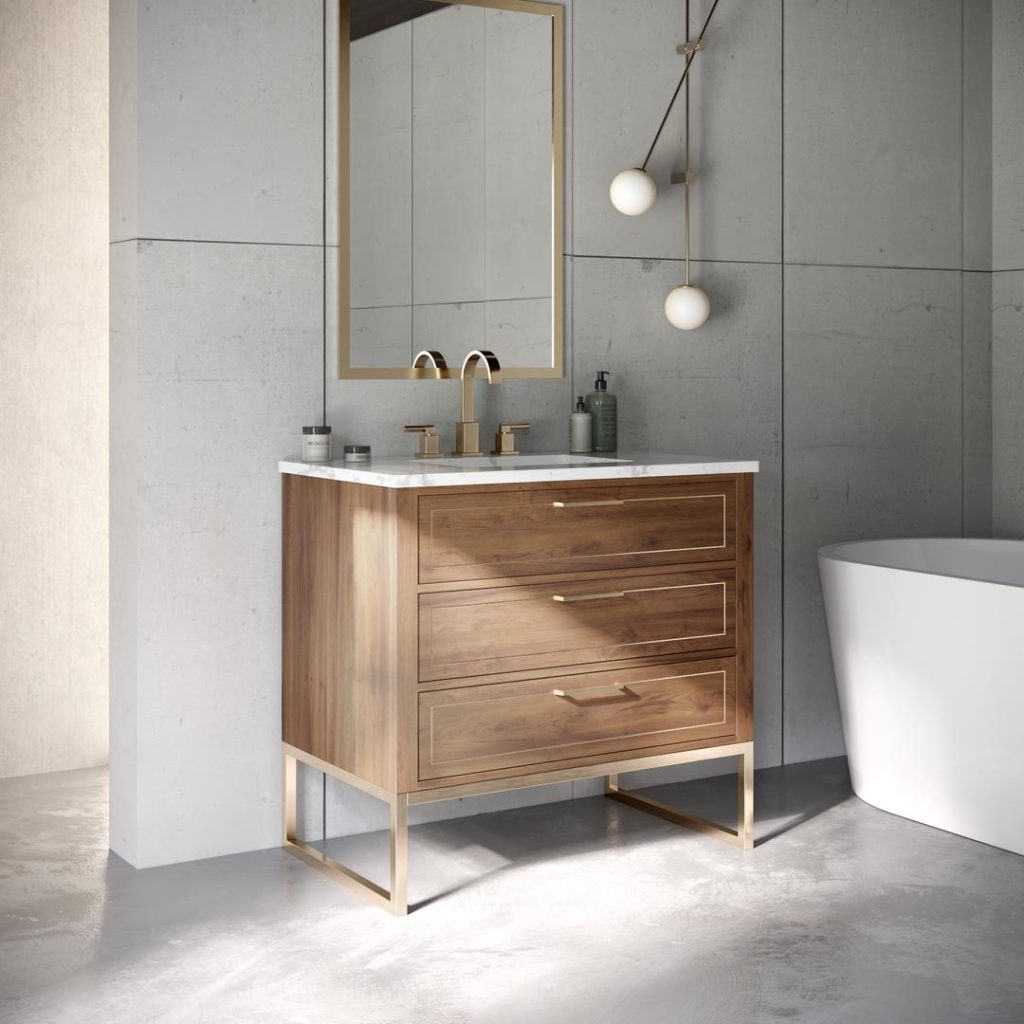 Warm Wood Finishes
The hallmark of mid-century modern design is the prominent use of wood, and BEMMA's vanity impeccably adheres to this principle. Moreover, the warm wood finishes employed in this collection introduce a touch of natural beauty and warmth to your bathroom. Be it walnut, teak, or oak, these finishes bring a sense of nature into your space.
Simplicity and Clean Lines
The simplicity and clean lines of BEMMA's Mid-Century Bathroom Vanity create an uncluttered environment. The absence of ornate details facilitates the vanity's seamless integration with your bathroom's design, providing a sleek and organized appearance.
Ample Storage
Beyond its visual appeal, this vanity offers substantial storage space, a practical feature necessary for maintaining a tidy and organized bathroom. The drawers and cabinets are thoughtfully designed to accommodate your essentials while preserving the vanity's sleek aesthetics.
Versatile Sizes
Furthermore, BEMMA recognizes that bathrooms come in various sizes. Consequently, this collection offers an array of vanity sizes suitable for compact powder rooms to spacious master bathrooms. Whether you require a single-sink or double-sink vanity, there's a size that caters to your specific needs.
Mid Century Countertop Options
Moreover, the choice of countertop is pivotal in shaping your vanity's aesthetics. BEMMA's Mid-Century Modern Bathroom Vanity presents a range of countertop options, encompassing materials like marble, quartz, and other high-quality choices. These not only introduce functionality but also elevate the vanity's overall elegance.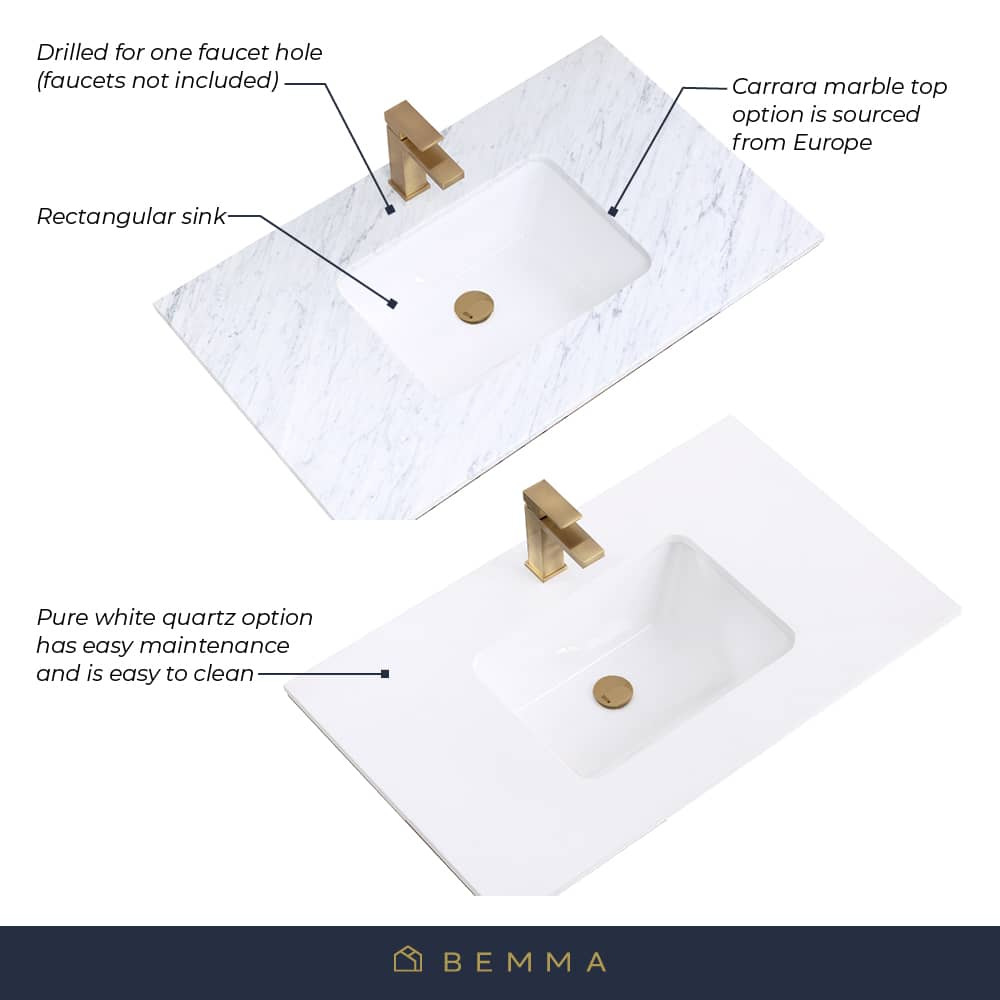 Hardware Finishes
Meticulous attention to detail is a core tenet of mid-century modern design, and BEMMA's vanity reflects this principle in its hardware finishes. As well, from brushed nickel to matte black, the selection of hardware complements the warm wood finishes, introducing a touch of contrast and sophistication.
Ease of Installation
BEMMA's Mid-Century Modern Bathroom Vanity is conceived with user-friendliness in mind. It includes comprehensive instructions and all the necessary hardware, ensuring that you can swiftly install your new vanity without hassle.
An Investment in Timeless Mid Cenutry Modern Vanity Design
Mid-century modern design is not a fleeting trend; it's a timeless style that continues to inspire. Opting for BEMMA's Mid-Century Bathroom Vanity is not just an investment in your bathroom's aesthetics; it's also an investment in a design that endures over time.
Beautify Your Bathroom with BEMMA's Mid-Century Modern Bathroom Vanity
In summary, BEMMA's Mid-Century Modern Bathroom Vanity embodies timeless design principles. With its warm wood finishes, clean lines, generous storage, varied sizes, countertop choices, and attention to hardware finishes, this vanity is a testament to BEMMA's dedication to delivering top-quality products. It provides an opportunity to revolutionize your bathroom into a space that radiates elegance and functionality. Therefore, whether you're a fan of mid-century modern design or simply seeking a sophisticated and adaptable vanity, BEMMA's collection is a choice that will not disappoint. Elevate your bathroom with the enduring allure of mid-century style and experience the perfect fusion of form and function in your personal sanctuary. Your dream bathroom is just a BEMMA vanity away.