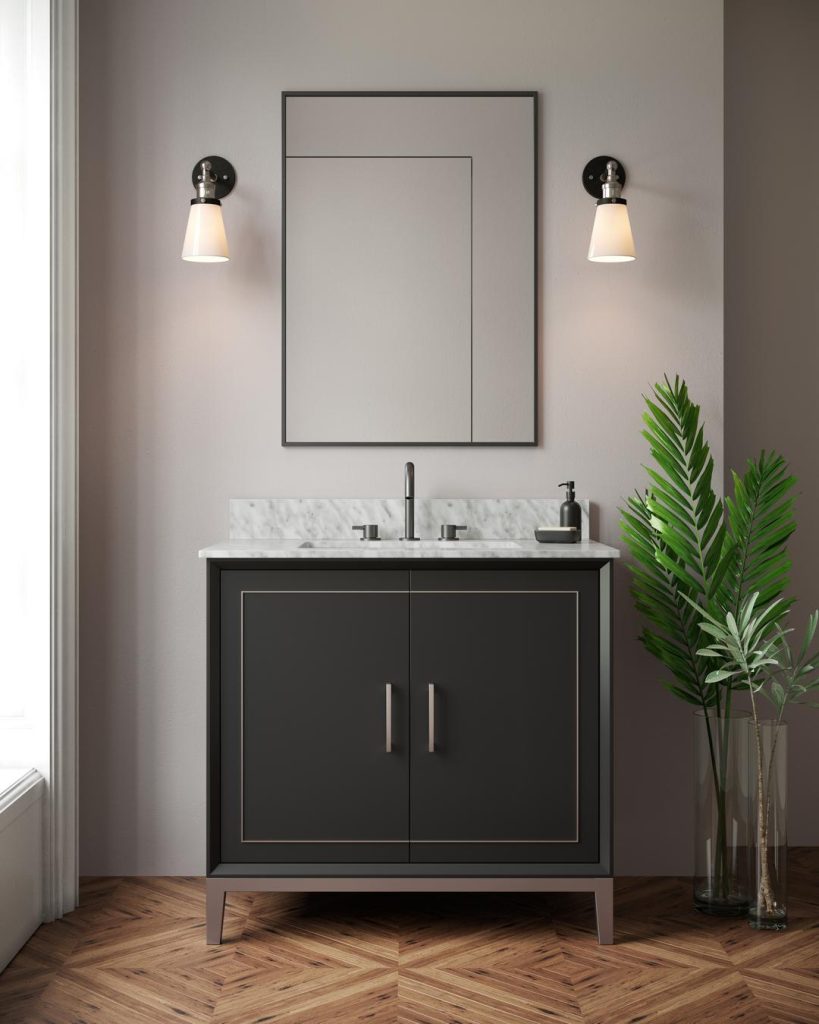 In the realm of bathroom design, the 36 inch vanity serves as both a functional centerpiece and an aesthetic anchor. It is a fundamental element that can transform your bathroom space into a haven of luxury and style. One such example of beauty and functionality is this vanity from the Gracie Collection. Additionally, this versatile cabinet comes in three captivating colors: Midnight Black, Pacific Blue, and White. The hardware options, including Brushed Nickel and Satin Brass, add a touch of sophistication. Completing the ensemble are two stunning countertop choices: Carrara Marble and White Quartz. In this comprehensive exploration, we delve into the exquisite details of the 36 inch bathroom vanity from the Gracie Collection, uncovering how it can elevate your bathroom to new heights.
The Gracie Collection: Timeless Elegance
The Gracie Collection, known for its timeless elegance and versatile design, has been a favorite among homeowners and interior designers alike. Its ability to seamlessly blend into various bathroom styles, from classic to contemporary, makes it a top choice for those seeking a touch of sophistication in their bathrooms.
The 36 Inch Vanity: A Perfect Balance
This vanity from the Gracie Collection strikes a perfect balance between size and functionality. Its dimensions are optimized to fit comfortably into a variety of bathroom sizes, making it a versatile choice for both spacious master bathrooms and cozy guest bathrooms. As well, this versatile sizing ensures that you have ample countertop space while still providing generous storage within the vanity's cabinets and drawers.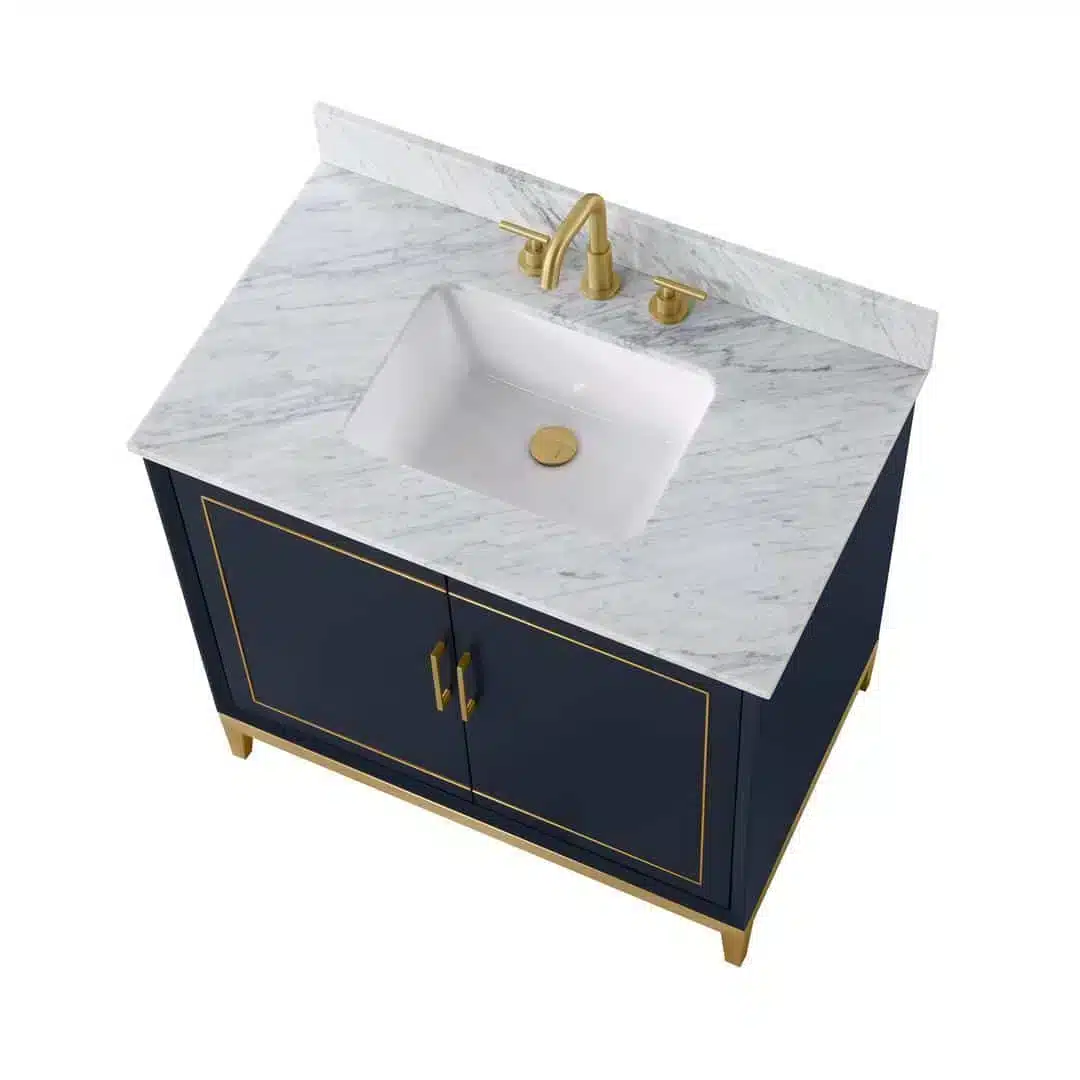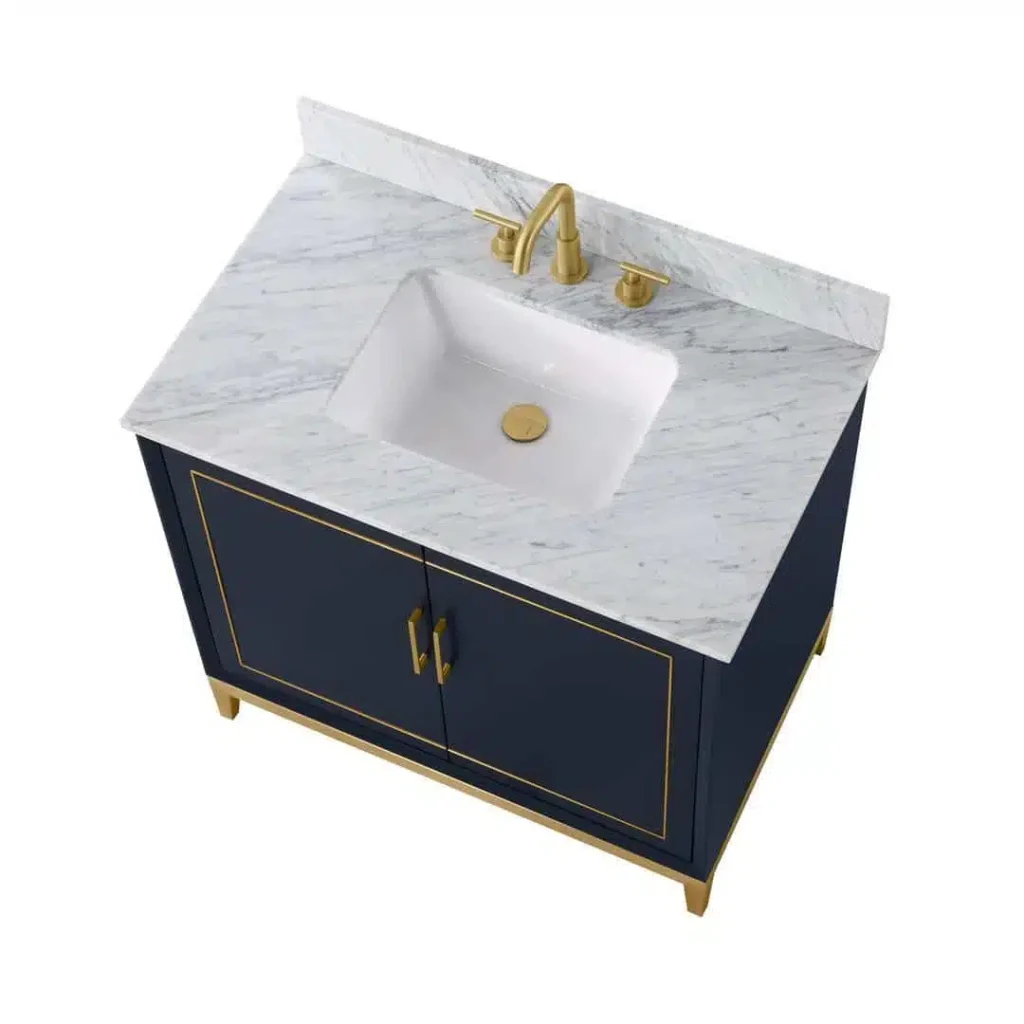 Color Choices: Midnight Black, Pacific Blue, and White
One of the defining features of the Gracie Collection's 36 inch bathroom vanity is its stunning color palette. Midnight Black, with its deep and rich hue, exudes sophistication and mystery. Pacific Blue brings a sense of coastal charm and serenity to your bathroom, evoking the tranquil beauty of the ocean. White, a timeless classic, adds a sense of purity and freshness to the space. Moreover, these color choices allow you to tailor the vanity to your preferred color scheme and design aesthetic.
Vanity Hardware Finishes: Brushed Nickel and Satin Brass
Moreover, the hardware of a vanity is like the jewelry of your bathroom, adding a touch of personality and style. The Gracie Collection offers two exquisite hardware finishes for the this vanity: Brushed Nickel and Satin Brass. Brushed Nickel lends a modern and understated elegance, while Satin Brass brings a bold and luxurious statement. The choice of hardware finish allows you to further customize your vanity to match your preferred design theme.
Countertop Choices: Carrara Marble and White Quartz
The countertop of a vanity is not just a functional surface but also a design element that can elevate the overall aesthetics of your bathroom. The Gracie Collection's 36 inch vanity offers two exceptional countertop choices:
– Carrara Marble: Known for its timeless beauty and natural veining, Carrara Marble adds a touch of classic elegance to your bathroom. Its soft gray and white tones create a soothing and sophisticated ambiance.
– White Quartz: White Quartz is a contemporary favorite, celebrated for its durability and sleek appearance. Its clean and minimalist design complements various design styles, making it a versatile choice for modern bathrooms
Storage Solutions: Convenience and Organization
A well-designed vanity prioritizes storage solutions to keep your bathroom organized and clutter-free. The 36 inch bathroom vanity from the Gracie Collection offers a combination of cabinets and drawers, providing ample space for toiletries, towels, and other bathroom essentials. The thoughtful organization ensures that everything has its place, promoting a tidy and functional bathroom environment.
Durability and Craftsmanship
Additionally, a bathroom vanity should be able to withstand the daily wear and tear of a busy household. The 36 inch vanity from the Gracie Collection is built with longevity in mind. As well, crafted from high-quality materials and expert craftsmanship, it boasts exceptional durability that ensures it can endure the test of time. You can trust that this vanity will remain sturdy and beautiful for years to come, even in the busiest of households.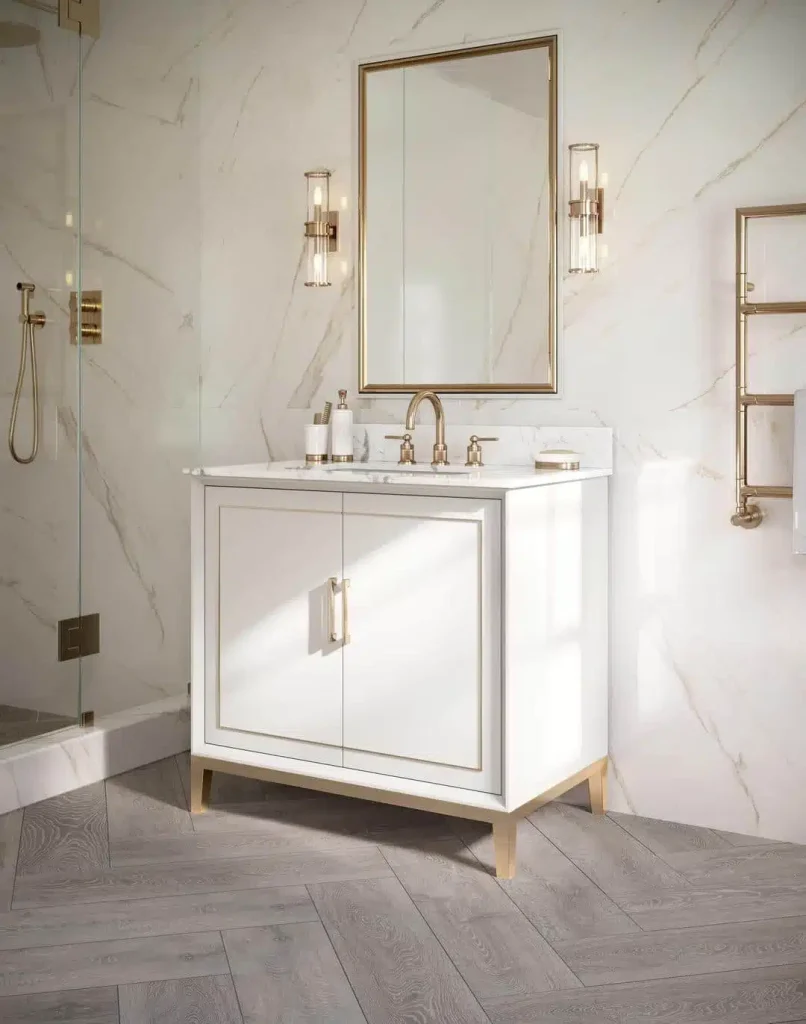 Ease of Installation
Furthermore, time is a valuable asset, and the installation process should be as smooth as possible. This bathroom vanity from the Gracie Collection is designed for easy assembly. It comes complete with comprehensive instructions and all the necessary hardware. As well, with minimal effort, you can ensure that your new vanity is installed and ready to enhance your bathroom's aesthetics and functionality.
Affordable Luxury
Creating a luxurious bathroom doesn't have to come with a hefty price tag. The Gracie Collection's 36 inch bathroom vanity offers affordable elegance. Thus, allowing you to achieve a high-end look without breaking the bank. This accessibility makes it an enticing choice for homeowners who appreciate both quality and affordability.
36 Inch Vanity Customization and Personalization
Moreover, every homeowner has unique tastes and preferences, and the Gracie Collection understands the importance of personalization. This vanity offers customization options. This allows you to choose the color, hardware finish, and countertop material that best aligns with your bathroom's decor. As well, this level of customization empowers you to create a vanity that reflects your individual style and design vision.
Versatile Placement
This vanity's compact size allows for versatile placement within your bathroom. As well, it can be installed as a single vanity for small bathrooms or doubled up for a grander look in larger spaces. Additionally, this flexibility in placement ensures that the Gracie Collection's vanity can adapt to various bathroom layouts and design preferences.
The Gracie Collection Experience: Elevating Your Bathroom
In summary, the 36 inch bathroom vanity from the Gracie Collection is a testament to the collection's commitment to providing top-quality products that enhance your living spaces. Its perfect balance of size and functionality, exceptional durability, versatile color choices, hardware finishes, and countertop materials, along with easy installation and affordability. This makes it an enticing choice for anyone seeking to elevate their bathroom's style and functionality. Thus, transform your bathroom with the 36 inch vanity from the Gracie Collection and experience the perfect fusion of form and function. Your dream bathroom is just a step away.