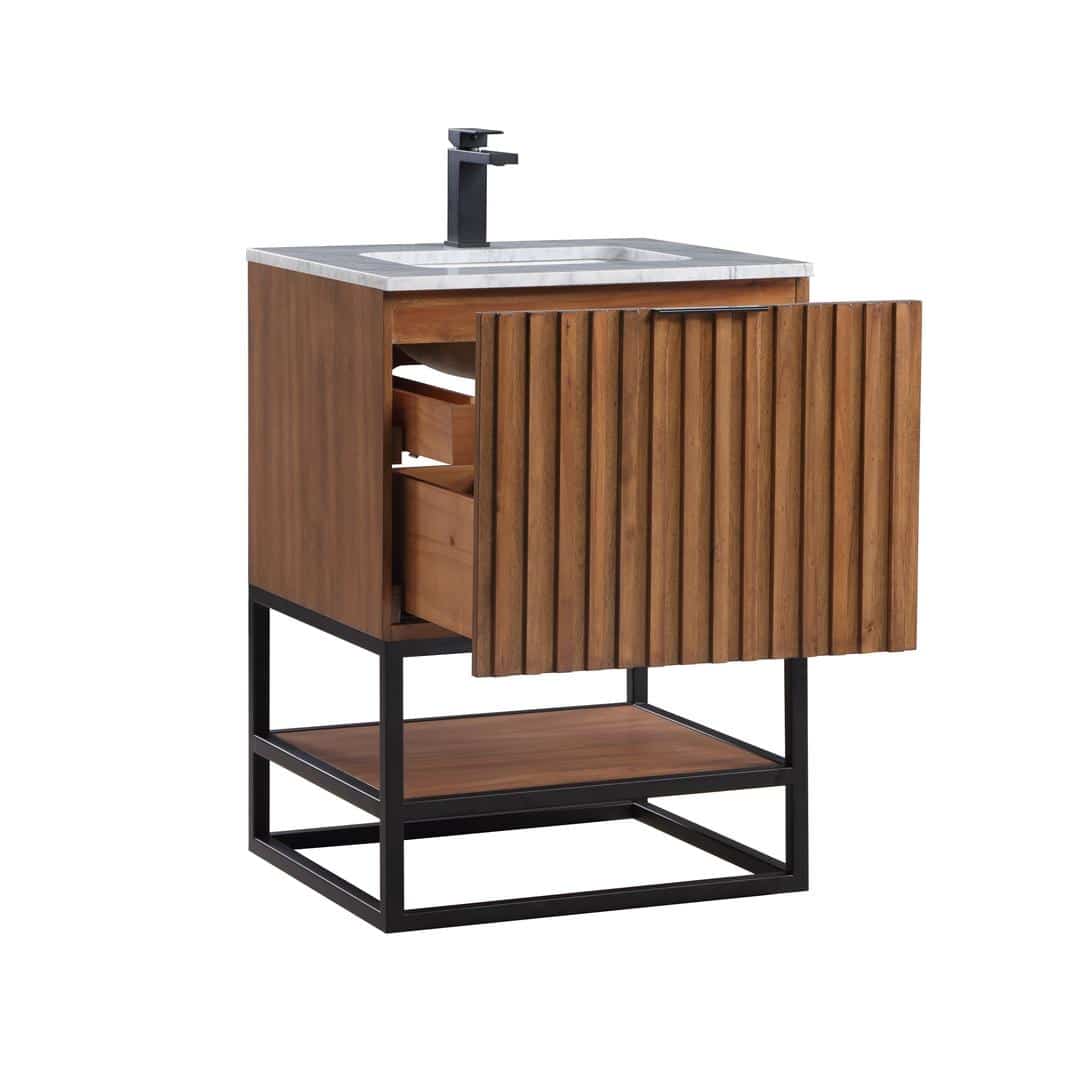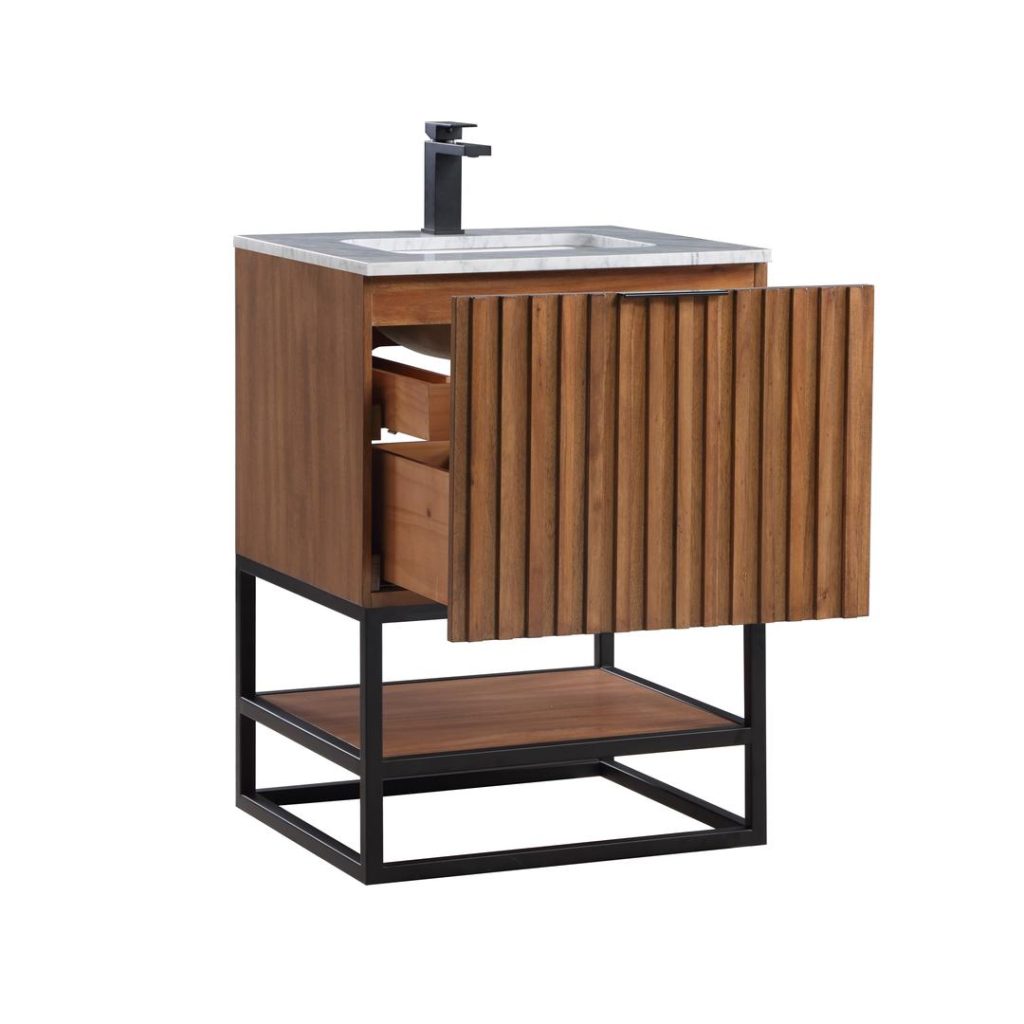 24 Inch Bathroom Vanity: Why It May Be The Best Choice For You
Firstly, when selecting a bathroom vanity, you want a piece that not only enhances your bathroom's aesthetics but also offers durability and functionality. BEMMA's 24 inch bathroom vanity from the Terra Collection stands out as an exceptional choice. Here's why this vanity might be the best option for you:
24 Inch Vanity Premium Wood Construction:
BEMMA crafts the 24 inch bathroom vanity using real wood veneers and solid wood construction, ensuring you get a piece that not only looks good but also feels solid and substantial.
Plywood Panels for Strength & Durability:
Unlike some vanities that employ Medium-Density Fiberboard (MDF), BEMMA's vanity uses plywood panels, enhancing strength and durability. This guarantees your vanity's longevity.
Premium Stain and Sealant:
The vanity undergoes treatment with two coats of premium stain and two coats of protective sealant, resulting in a rich, scratch-resistant finish that enhances the piece's durability.
Color Options:
BEMMA provides various color options for the base, including Midnight Black, Greywash, and Walnut finishes. This variety allows you to select the one that best suits your bathroom's decor.
Durable Plywood, No MDF:
BEMMA's commitment to quality is evident in the use of durable plywood, ensuring your vanity remains in excellent condition over time.
24 Inch Bathroom Vanity: Convenient Shipping and Installation:
To simplify the installation process, BEMMA ships the top and base of the vanity in separate boxes. Additionally, the entire base arrives pre-assembled, reducing the time and effort required for installation.
European-Sourced Countertops:
Moreover, BEMMA offers two countertop options for the 24 inch vanity. The Carrara marble top originates from Europe, guaranteeing a high-quality and elegant finish. Alternatively, the pure white quartz option provides easy maintenance and effortless cleaning, ideal for busy households.
Smart Storage Design:
The Terra Collection features pull-out drawers with interior cubby drawers, allowing for organized and efficient storage. This design ensures that your essentials are easily accessible and neatly organized.
Quality Drawer Glides:
BEMMA uses top-quality European-sourced drawer glides for the vanity, ensuring smooth and reliable operation for years to come.
Warranty
Your peace of mind is secured with a 5-year limited warranty. BEMMA stands by the quality and durability of their products.
Size Options:
Whether you have a compact bathroom or a more spacious one, the Terra Collection offers a range of size options to choose from, including 24 inch, 30 inch, 36 inch, 48 inch, and 60 inch vanities. This ensures that you can find the perfect fit for your space.
Faucet Compatibility
The vanity is pre-drilled for a one-hole (mono) faucet, making it compatible with a wide range of faucet styles. While the faucet is not included, this feature simplifies the installation process.
In conclusion, BEMMA's 24 inch bathroom vanity from the Terra Collection offers a blend of aesthetic appeal, quality craftsmanship, and functional design. The use of real wood veneers, durable plywood, premium finishes, and European-sourced materials ensures that you're investing in a piece that will stand the test of time. The multiple size options, color choices, and countertop selections make it a versatile addition to any bathroom. Plus, the 5-year limited warranty provides peace of mind, knowing that your investment is protected. Thus, If you're seeking a high-quality, stylish, and dependable bathroom vanity, BEMMA's 24 inch option may just be the perfect choice for you.